Waterjet cutting utilizes a high pressure water stream for clean and precise cutting.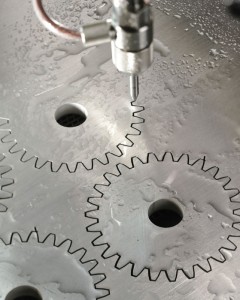 With no heat zones or material distortion, it can even cut challenging materials such as alloys, steels, laminates, composites, plastics/acrylics, rubber, fiberglass and glass.
Benefits of PacMech's waterjet cutting of your items include:
•    Quick turnaround from RFQ to finished product
•    Cost savings versus OEM supplied products
•    Reverse engineering services including drawing creation from sample parts
•    Use of your provided AutoCAD files
Call today to learn more about how PacMech's waterjet
cutting services can be a competitive and
quick solution for your company.